For the best overview, go to our webshop at Ecwid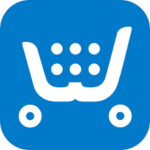 World's First English Karuta!
Ogoola Karuta English using English, American, Irish and Scottish poetry quotes.
Hyakuninisshu English translated Karuta
Hyakuninisshu Romaji Karuta
(transliterated karuta from Japanese to Roman letters)

Ecwid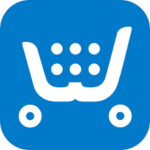 Shipment Information: We send all our products with the company postnord. It is the northern European post. For customers who select the track and trace service for their shipment, the following link will get you to the track and trace service page. Just click the link and input your Shipment ID that we notice you and you can track your parcel as soon as it's on its way. Link to postnord.
https://www.postnord.se/en/our-tools/track-and-trace
---
New!

Hyakuninisshu Romaji Karuta

The ultimate karuta for people who want to play karuta in Japanese but can not read Japanese characters. With these cards, you can play karuta in Japanese like in Chihayafuru – without knowing the Japanese characters!

What is Romaji?
Romaji is the romanization of the Japanese written language. It is the transliteration of Japanese terms to the Roman text or other languages that use the Roman alphabet. There are different romanization systems of the Japanese language. This Romaji karuta uses the Hepburn system.

This is the first Romaji Hyakuninisshu Karuta cards in the world, using the roman alphabet to write the original Japanese Ogura Hyakuninisshu. All 100 poems are carefully transliterated to western (roman) letters. This means that you can listen, read and play in Japanese keeping the original meter and rhythm, like the Japanese have done for 400 years.

The cards have the original Japanese illustrations and texts from Shogundo printed on one side and the Japanese Hyakuninisshu poems in Romaji on the other side. Also, each playing card (Torifuda) has a clue (kimariji) that helps you recognize the correct card.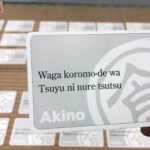 Ecwid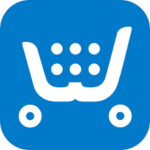 ---
Ogoola Karuta
The original English Ogoola Karuta game is available in three versions; Classic, Modern and Complete. These karutas use poetry quotes from significant poems written in English from 1340 until today.

---
Hyakuninisshu English Translated Karuta
Finally you can play like Chihayafuru in English!
This karuta uses the original Japanese poems from Ogura Hyakuninisshu translated to English "wakas" (following the 57577 syllables). All cards have both the Japanese original poems with a unique illustration or text from Shogundo´s karuta, plus the English translation by Clay Mac Cauley (1917). This Karuta comes with two FREE Reader Apps on iOS devices. One is sung following the Japanese waka rhythm and the other is read the normal way. The Free Reader Apps are called Hyakuninisshu EN and Read Hyakuninisshu EN.


---
Ogoola Karuta in German, Swedish, French and Chinese

[/ezcol_2third_end]
---
Gameboards
---
English 100 Poetry Book
---
Ogoola Karuta Reader Apps
---
Click and listen to reading samples!
---
Try the app Karuta52 (in English)
---